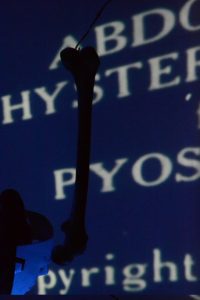 ADVERTIMOS: desmayos, asco, morbo, repulsion, perturbación, incomodidad o extrañeza corporal  y/o mental pueden manifestarse en algunas corporalidades. y nada te obliga a quedarte y aguantar nada. la puerta esta abierta pa que salgas y vuelvas o simplemete vete sin molestar o alimentar a las bestias, asi al menos saldras entera
A body decolonization, blood magic, transhackfeminist & science freak
  collaboration between klau kinki and misfita started in may of 2016. 
klau kinki projects are PechblendaLab – Anarchagland – Gynepunk
misfita is a performer that investigates blood and body as a materials, gender and normative abolition
links: 
maleta grande para llevar menos trastos (normalmente el equipo basico son 2 carros y2 mochilas grandes y otro bolso mediano.
especulums, guantes, kit de curacion, desinfectantes de material y piel
cacharros ritual, velas, inciensos, agujas, 
impresiones desechables e impresiones como fanzines, postales y pegatinas, purpurina, 
impresion en 3d de clitoris, 
material para lubricates, grapadora y grapas, bandeja, luz f
rontal o linternas. webcam hd,  
 WHAT
Dark cabaret-style perform
ance, audiovisual experience,  bizarre installation-scenario with DIY biohacking techniques  & bodyspell rituals. Based on the bloody horrors of  medicine history  (surgery, anatomy, ob/gyn) A progressive ritual to honor our losts: witches, healers, chamans. With ironic and critic perspective, playful participatory resources
& extreme body actions.
WHO
A body decolonization,  blood magic , transhackfeminist & science freak  collaboration between klau kinki and misfita started in may of 2016. 
klau kinki projects are PechblendaLab – Anarchagland – Gynepunk
misfita is a performer that investigates blood and body as a materials, gender and normative abolition
FROM
Perú – Colombia – Calafou
Details
Dra Kaligari Cabinet  is a gynegore, dildomancy & prostatic degenerating cabaret, with  6 acts::anatomi
cal theatre, public-cervix-anouncement, abortion/vasectomy, degenerate prostate, curse/exorcism. 
Warnings
A intense and some times shocking experience, fainting, disgust, repulsion, perturbation, discomfort, body or mental estranglement have been manifested in some corporealities, in the other hand, many had expressed extreme curiosity, laugh & happiness, even grateful thankfulness.  
Nudity, raw vaginal and anal exposure, skins pierced by needles, blood games with surgical tools in our skins as ritual, we will spill blood and rage for the bodies that have been silent. 
Need & Space
WE BRING: 2 computer,  1 four channels audio mixer, 10m rca/rca cable, jack/minijack & rca/minijack/jack connectors, 2 mics, 2 mobile lights (stroboscopic and white with color filters. 
WHAT WE NEED: Video projector and a cable that arrives to the stage, a screen to project, Audio output to plug the audio-mixer, 2 tables, 2 chairs and electricity extension cables if is necessary
.
We are our own technicians, we manage  from stage the audio & video inputs as part of the performance.
About space with  4meters square minim. is ok, more can be good, and we don't have any preferred location.
Material & Costs
1 big suitcase to reduce the number of bags cause we normally in "on foot" basic equipment, we carry 2 big suitcases, 2 big bag-packs and one extra hand bag minimum (with out scenario structures like shelves or other fragile lab devices) > 100€ 
Disposable clothing: leggins, elastic body, doctor like coats cause are destroyed on stage > 15€
Disposable material: different types and sizes of needles, bisturi blades, suture treads, sterile gloves, sterile cotto
n, instrument and skin disinfectants and After-care first aid kit > 30€
One burn material: printed images, candles, inciense & new metal pots to burn them cause ours are very burn out and damaged already > 20€
Basic make up some white, black  and red skin cover for all the body and a big pot of black and silver glitter > 30€
We also need a better stapler (and staplers), a flashlight and a Hd webcam. 80€
As we make our own DIY lubricant we need the ingedients to prepare it (diferent kind of flours and destilated water) less than 10€
For the Kaligari kit (gift for the audiece)
Plastic re-usable sterile speculums. around 50€
3D printed clitoris real size. the price will depend of the lab that can print it at that dates and how many.
Printings (Postcards or Stickers & a fanzine of the Cabinet Kaligari) 50€
And if its possible a new and better shelve (more foldable and light) 20€ 
and  if necessary  the cover plastic for the scenario
links: 
Dra K
aliga
ri
Cabinet is an a
lways mutating perform
ance, a dark cabaret-style audiovisual experience, a spokenwor
d interactive game, a bizarre installation-scenario assembled with biohacking techniques, DIY technologies, hybrid objects and bodyspell rituals.
Composed by 5 acts that are flexible to adapt to any context, sort of "performatic stages" of a journey through the bloody horrors of history of medicine (surgery, anesthesia, anatomy murders or the sadistic uroginecology and obstetrical violence) A progressive bodyperformance ritual, to honor our losts : witches, healers slaves, poor, immigrants, all bodies slaughter by them, with critical and ironic perspective using playful participatory resources to extreme body actions.
Related to the call: This is A Blood embodiment, from the blood of the unknown to our own bodies and experiences, cause medical memory has to be reset critically. A deconstruction of medical and corporal knowledge outside hygienic rooms, knowledge expressed in viscera, SelfDisection, personal fluids and limits on pain, disgust and pleasure, our own blood a visceral scream an infectious viral call to memory.
Current Biography (100 words max)  Tell us about yourself or the Collective/Organisation you represent
Kaligari cabinet is a collaborat
ion between klau kinki and misfita started in may of 2016.
A body decolonization,  gynegore,  Blood Magic , transhackfeminist, science freak mutant cabaret.
Have being presented in different festivals last year : Tremenda Fest (Castellon) – Bitchcraft (Bruselles) – TDB (Toulouse) – Tatto Circus (Barcelona) – Trobada Comunitat (Calafou) – Encuentro Marica rural (Valls) – Jornadas gynecoñogicas (Manresa)
klau kinki projects: PechblendaLab – Anarchagland – Gynepunk
Misfita: is a performer that investigates blood and body as a  material, the most of her performances are about gender and normative abolition